Discover more from MagicalMedia+
Insights and perspectives you won't find anywhere else, from Monorail News and Disability at Disney.
The World of Frozen Comes to Hong Kong: Did Disney Do Enough?
Hong Kong Disneyland's 'Arendelle: The World of Frozen' is a beatifully crafted land that lacks a killer E-Ticket attraction.
On November 20th, Hong Kong Disneyland will open its newest land, Arendelle: The World of Frozen, as part of its massive multiyear expansion that has included hits like Mystic Manor, Grizzly Gulch, and the incredible Castle of Magical Dreams, and while fans are undoubtedly excited to truly step into Anna and Elsa's world for the first time, what they'll find inside is a mixed bag.
On the one hand, the land is truly gorgeous and impeccably crafted, with beautiful details that abound, as you can see in the images below. On the other hand, it's relatively small and only features two new attractions, neither truly revolutionary nor befitting of headlining a land based on Disney's most popular animated franchise.
MagicalMedia+ is a reader-supported publication. To receive new posts and support my work, consider becoming a free or paid subscriber.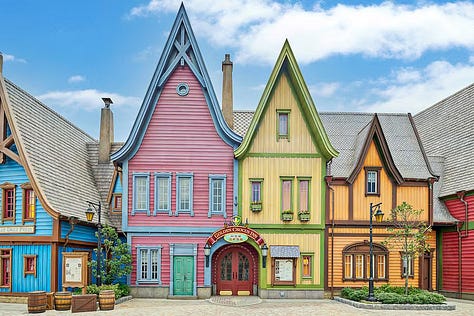 The land's two attractions are Frozen Ever After and Wandering Oaken's Sliding Sleighs.
Wandering Oaken's Sliding Sleighs is a cute, family-friendly roller coaster comparable to Barnstormer at Magic Kingdom in Florida orChip and Dale's GADGETcoaster (formaGadet's Go Coaster) at the original Disneyland in California.
It was initially believed that this attraction would utilize the Imagineering-designed coaster type found on Seven Dwarfs Mine Train at Magic Kingdom and Shanghai Disneyland. However, this was not to be; instead, we got an incredibly well-themed one-minute-long coaster. That being said, one minute long includes the lift hill and final break run, and while the theming is nice during both, with Olaf and Sven sending you off before the only lift hill, that only leaves about 25 seconds of actual ride time. If you don't believe me, see it for yourself here.
This cute ride would have seriously benefitted from an indoor dark ride segment like the Seven Dwarfs Mine Train. Think about how much a slow segment in between two short rollercoaster segments would have been. You could be exploring a cave and watching Olaf get impaled or even catching an awe-inspiring glimpse of Elsa's Ice Palace in the distance as you slide or climb up a mountain.
The second attraction is the land's headliner, Frozen Ever After, which, despite using a different boat and flume system, stays very true to its EPCOT inspiration, and that's a shame. This was Disney's opportunity to design a true E-Ticket attraction worthy of the Frozen franchise without the constraints of retrofitting an existing attraction. As a reminder, the original Frozen Ever After attraction at EPCOT was a retheme of the classic World Showcase boat ride, Maelstrom, and therefore inherited its quirks and limited Imagineers to working within an existing show building and track layout.
Yes, this version of the attraction does have a few significant improvements, most notably animatronic figures that have fully articulated faces rather than EPCOT's rear-projected versions (see the image below for a comparison) and a lift hill that doesn't make a loud click-click-click-click noise as it bumps you up and down in your seat.
That's not to say it's bad because it's quite literally better than the EPCOT version in every way, as it should be, considering it was built from scratch years later, but it shouldn't even exist. An incredible new Frozen-themed attraction should be in its place that would knock Mystic Manor from the park's coveted 'best attraction' slot.
That's to say, the overarching theme of the entire World of Frozen expansion is good, but it could have been so much more. The land is beautiful but small. The coaster is fun but short. The boat ride is enchanting but not original.
Now, the blame here doesn't entirely lay with The Walt Disney Company, as much as some would like to make it appear that way. After all, Hong Kong Disneyland is a joint venture between Disney and the government of Hong Kong. The Hong Kong government is the resort's majority owner and, therefore, not only puts up the majority of the money for new projects but also has a lot of say in the development and direction of projects. For example, did you know that Hong Kong almost had a Haunted Mansion, but didn't because the Hong Kong government wanted an original attraction in its place, allowing Joe Lanzisero and his team to go crazy and give us the amazing Mystic Manor?
It's understandable for the Hong Kong government to want to play it safe and save some money here. After all, Hong Kong Disneyland has only been profitable for a handful of its 18 years of operation and it has even more projects coming down the pike in addition to its other amazing new enhancements and attractions. But it is still disappointing as a fan of both Frozen and theme parks.
That being said, sometimes you have to spend money to make money. I think it's telling that in the years immediately following the opening of the park's most innovative and popular attraction, Mystic Manor, the park not only achieved profitability but also saw attendance soar.
This could have been a Mystic Manor-level achievement for the park, and with the popularity of Frozen, I'm sure it will drive attendance and maybe even lead the resort to profitability in the next year or so, but it could have been so much more, and that's a shame.
What do you think? Answer the poll, and if you're a subscriber, sound off in the comments.
MagicalMedia+ is a reader-supported publication. To receive new posts and support my work, consider becoming a free or paid subscriber.