FIRST LOOK at the World's First 'Zootopia' Themed Land at Shanghai Disneyland With Multiple Videos and Photo Galleries
You may have seen our article on Monorail News, which provides a first look at Shanghai Disneyland's soon-to-open 'Zootopia land; if not, please check it out here.
However, for our MagicalMedia+ subscribers, I wanted to provide more info than we did at MonorailNews.com. So keep reading for videos of advanced animatronics, food and beverage offerings, and many, many photo galleries…
First, I have some video from the Shanghai Disneyland press event showing the land and its many animatronics and a clip of the land's signature attraction 'Zootopia: Hot Pursuit.'
The attraction will see guests board all 'all terrain police vehicles,' which is really a trackless dark ride vehicle similar to that found on Star Wars: Rise of the Resistance. Guests will travel through the various neighborhoods. They'll feel themselves skid across the ice in Tundra Town, glide down the smooth streets of the City Center, and even experience a freefall drop in the Rainforest neighborhood.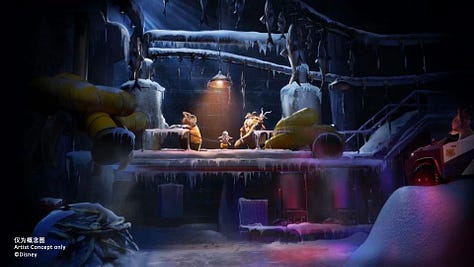 It's easy to discern that this attraction will be Shanghai Disneyland's equivalent to Rise of the Resistance. This makes sense, considering Star Wars' lack of market penetration in China. This dates back to the early 1970s when the country's ruling Communist Party banned foreign films, meaning that unlike in the rest of the world, China lacks generations of fans raised on the popular sci-fi franchise.
Much like Rise of the Resistance, the attraction will contain numerous highly advanced Audio-Animatronic figures; below are videos of two of the figures, both of which we believe will be in the attraction's queue and preshow areas.
Keep reading with a 7-day free trial
Subscribe to MagicalMedia+ to keep reading this post and get 7 days of free access to the full post archives.